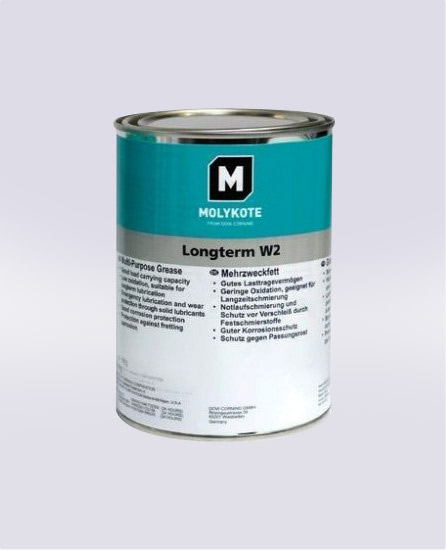 MOLYKOTE™ Longterm W2 Multi-Purpose Grease
White lubricating grease for metal/metal combinations with
slow to fast movements and medium loads Standard Unit Result
APPLICATION:
• Used successfully for bearings in machinery used in the food and pharmaceutical industries, in textile and paper making machines, domestic appliances and mechanical precision instruments.
• Good load-carrying capacity Suitable for long-term lubrication since it has no tendency to oxidize
• Wear protection through solid lubricants
• Good adhesion strength due to incorporated adhesion improver
• Good corrosion protection (corrosion step 0-1 in the SKF-Emcor test)
• Prevents the formation of frictional corrosion
Clean the contact areas. Apply with brush, spatula, grease gun or automatic lubricating device. It Can be used in central lubrication systems.