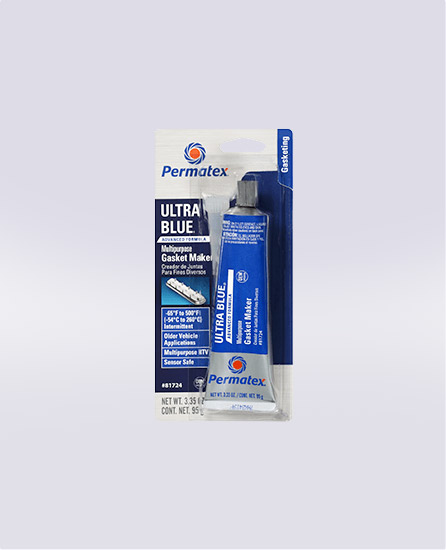 Permatex® Ultra Blue® Multipurpose RTV Silicone Gasket Maker
OEM specified. Designed specially for high-torque and high vibration applications, like those common in import engines, this premium RTV gasket maker exceeds manufacturers' performance requirements. Sensorsafe, low odor, and noncorrosive. Maximum vibration resistance, with outstanding resistance to oils, cooling and shop fluids. Guaranteed not to leak. Temperature range -65ºF to 500ºF (-54°C to 260°C) intermittent.
Sensor safe, non-corrosive
Superior adhesion and flexibility
Improved oil resistance
Replaces most cut gaskets
Low odor
Can be used as a gasket maker or dressing
Non-flammable, Non-toxic
For assembly as form-in-place gasket
1. Remove all previous material from mating surfaces. Permatex Gasket Remover is recommended for most materials.
2. For best results, clean and dry all surfaces with a residue-free solvent, such as Permatex Brake and Parts Cleaner.
3. Cut nozzle to desired bead size, 1/16" to 1/4" in diameter. A 1/8" bead is usually sufficient for most applications.
4. Remove cap, puncture tube or cartridge seal and attach extension nozzle.
5. Apply a continuous 1/16 inch to 1/8 inch bead of silicone to one surface, first tracing the internal areas of the gasket configuration, then all surrounding bolt holes.
6. Assemble parts immediately while silicone is still wet.
7. Finger tighten flange only until material begins to seep out the sides of the flange.
8. Allow to set for at least two hours and re-torque at lease one quarter to one half turn.
9. For best results, allow to cure overnight