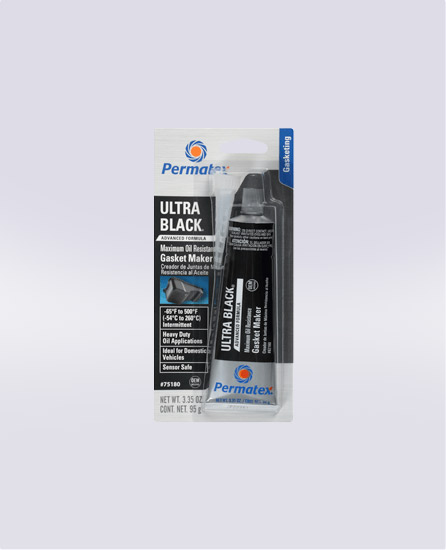 Permatex® Ultra Black® Maximum Oil Resistance RTV Silicone Gasket Maker
Permatex Ultra Black Gasket Maker is a single component, room temperature, vulcanizing, gasketing compound designed to provide reliable "formed-in-place" gaskets for mechanical assemblies. This material cures on exposure to moisture in the air to form a tough, flexible, silicone rubber gasket. The product resists aging, weathering and thermal cycling without hardening, shrinking or cracking. Designed to provide increased oil resistance and complies with extended warranty requirements. OEM Specified.
• Improved oil resistance
• Sensor safe, non-corrosive
• Good adhesion and flexibility
• Replaces most cut gaskets
• Can be used as a gasket maker or dressing
• Non-flammable, Non-toxic
• Low odor
For assembly as a form-in-place gasket
1. Remove all previous material from mating surfaces. Permatex® Gasket Remover is recommended for most materials, not for plastics or painted surfaces.
2. For best results, clean and dry all surfaces with a residue-free solvent, such as Permatex® Brake and Parts Cleaner
3. Cut nozzle to desired bead size, 1/16" to 1/4" in diameter. A 1/8" bead is usually sufficient for most applications.
4. Remove cap, puncture tube or cartridge seal and attach extension nozzle.
5. Apply a continuous and even bead of silicone to one surface, first tracing the internal areas of the gasket configuration, then all surrounding bolt holes as shown below:
6. Assemble parts immediately while silicone is still wet.
7. Finger tighten flange only until material begins to seep out the sides of the flange.
8. Allow to set for at least two hours and re-torque at least one quarter to one half turn.
9. For best results, allow to cure overnight.