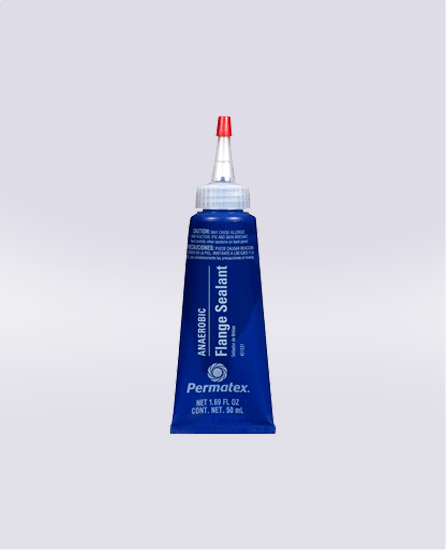 Permatex® Anaerobic Flange Sealant
Flexible, gasketing material for use on rigid machined flanges with less than .015" gap. OEM approved – use where OE's specify "anaerobic" gasket (cures in the absence of air). Withstands temperatures to 300°F (149°C). Eliminates preformed, pre-cut, paper, rubber and cork gaskets. Flexes with flanges that move in service.
1. Surfaces to be sealed should be free of grease, oil and dirt. Use Permatex Brake and Parts Cleaner to remove oil. Use Permatex Gasket Remover to remove old gaskets.
2. Apply manually to one side of flange, making sure a continuous bead is applied.
3. Assemble parts.
4. Torque to normal specifications.
5. Parts may be returned to service in one hour.
For Cleanup:
1. Wipe off excess material with a clean cloth.
2. Clean hands with Permatex Fast Orange® hand cleaner or soap and water.
For Disassembly:
1. For smaller assembled parts, heat part to 400°F to 450°F. 2. Use cautious, light prying or tapping motion to loosen the parts. Repeat heating/prying sequence as needed.
3. For larger assembled parts use prying/cleaving tools in combination with a light hammer and cautiously tap and pry the sides of the part to break the gasket surfaces loose. 4. Once parts are disassembled, allow all surfaces to cool to room temperature.
5. Use Permatex Gasket Remover to remove dried anaerobic material.