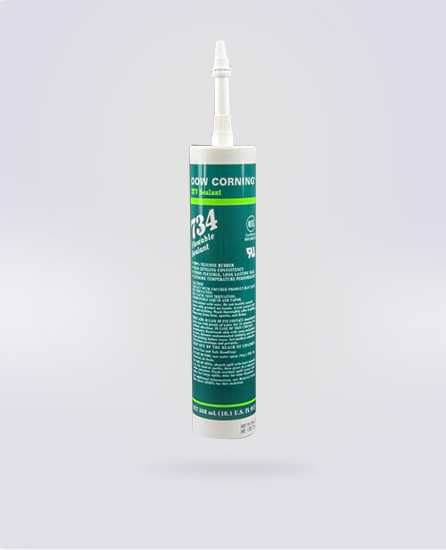 DOWSIL™ 734 Flowable Sealant
General industrial sealing and bonding applications requiring a flowable product.
Particularly suitable for sealing assemblies with fine joints as well as cable entries and connectors, to ensure that they remain water tight.
Due to its good adhesion to other silicone rubbers, ideally suited for making field repairs on existing equipment where a part of an existing silicone encapsulant has been removed.
• One-component adhesive/sealant
• Cures at room temperature when exposed to moisture in the air.
• Acetoxy cure system
• Flowable and self-leveling
• Easy to apply
• Cures to a tough, flexible rubber
• Fast tack-free time
• Good adhesion to many substrates
• Stable and flexible from -65°C (- 85°F) to +180°C (+356°F).
• Excellent dielectric properties
• Complies with MIL-A-46106
All surfaces must be clean and dry. Degrease and wash off any Contaminants that could impair adhesion. Suitable solvents include isopropyl alcohol, acetone or methyl ethyl ketone. Unprimed adhesion may be obtained on many substrates such as glass, metals and most common engineering plastics. Substrates to which good adhesion is normally not obtained include PTFE, polyethylene, polypropylene and related materials. For maximum adhesion, the use of DOWSIL™ 1200 OS Primer is recommended. After solvent cleaning, a thin coat of DOWSIL 1200 OS Primer is applied by dipping, brushing or spraying. Allow primer to dry for 15 to 90 minutes at room temperature and a relative humidity of 50% or higher.